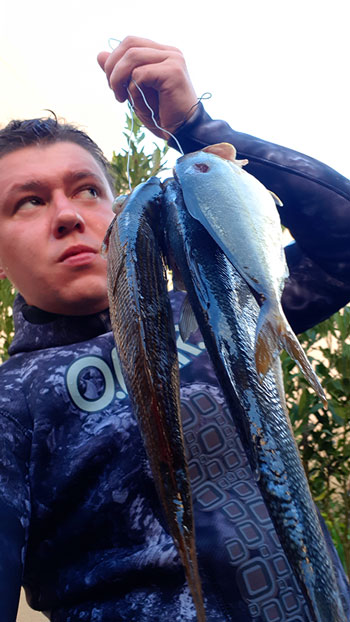 Hello, I am Max Smirnov, live on Canary Islands and spearfishing in Atlantic Ocean is my hobby for the last 3 years. I live in a townhouse near a non-tourist beach and have the opportunity several times a week to go spearfishing. Mostly I hunt for fish in the daytime, but recently I got an underwater flashlight and go spearfishing at night.
When I started my hobby, I did not know anything about spearfishing. It all started with the fact that I loved classic fishing from the shore and boats, over time I was wondering: "How does a fish behave under water?", "What happens in the depths of the ocean when we throw fishing rods?", "Why does the echo sounder show a lot fish, but no bite?".
Then I took my old underwater mask, tied a bait hook to the fishing line and began to watch how the fishing looks from the side of the fish itself. I saw how the fish carefully inspects the bait, how it reacts to sounds and movements, how it behaves under water. The sight was amazing, I felt like Jacques Yves Cousteau during the broadcasts on the Discovery Channel. For several weeks I studied spearfishing on the Internet, and then I bought my first equipment (spear gun, wetsuit, snorkel mask, flippers, socks and gloves). Since then, spearfishing has become my passion.
On the pages of my blog I will share my experience, successes and failures, tell you how to start spearfishing from a complete zero, how to choose your first equipment and get the most out of hunting and being in the ocean.
---
Spearfishing is an extremely versatile hobby. In this sense, neither land hunting, nor traditional recreational fishing, nor various water sports can compare with it. Unless – all together. And such a diverse hobby, of course, has many problems. My blog should help solve some of them. Good luck!